Tony Bennett obituary"I love life," he said. "I wish I could communicate to the whole planet what a gift it is to be alive."
Being alive, for Tony Bennett, meant following his passions, which included not only music, but painting landscapes and portraits — signed "Antonio Benedetto."
He was also an accomplished painter and produced a book of his visual art, What My Heart Has Seen (1996). His autobiography, published in 1998, was entitled The Good Life – Bennett knew only too well how ambiguous a notion that could be, having narrowly survived a cocaine overdose and fought off bankruptcy during his troubled middle years. He raised millions of dollars for charities and publicly associated himself with liberal causes.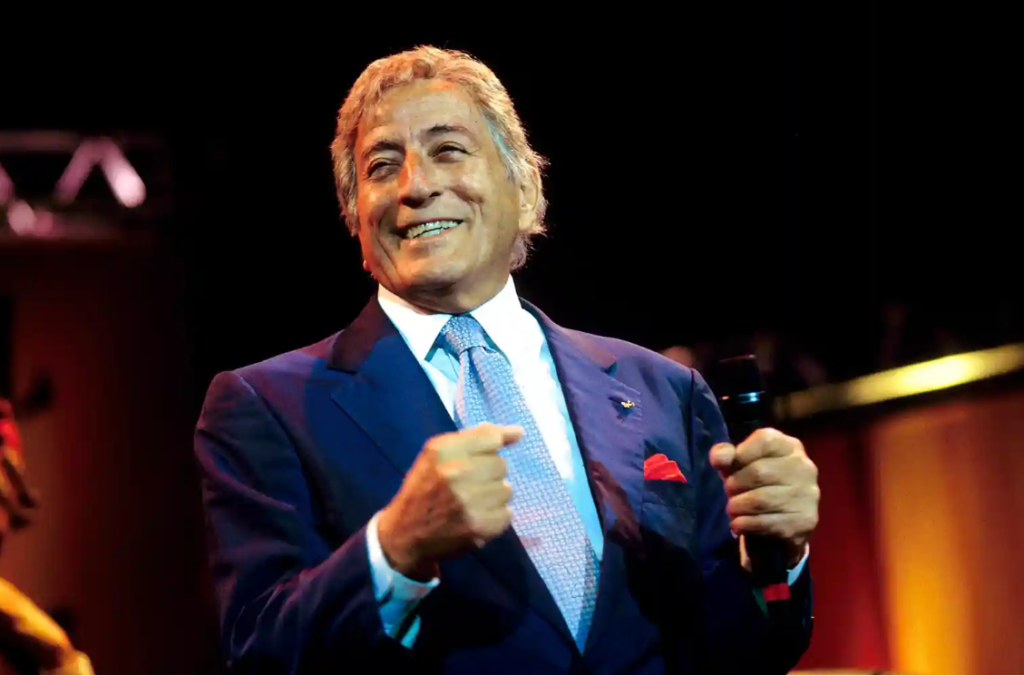 Born Anthony Dominick Benedetto in the Astoria district of Queens, New York, he was the son of John, a grocer from southern Italy, and Anna (nee Suraci), a seamstress. His father died when Bennett was 10 and Anna worked all hours to support her three children. Watching her struggle, Bennett made up his mind to be successful enough for his mother's trials to end. His Uncle Dick, a tap dancer, provided an early glimpse of showbusiness, and Bennett was passionate about both singing and painting by the time he attended the School of Industrial Art (now the High School of Art and Design) in Manhattan.
He took bellboy jobs before becoming a singing waiter in a restaurant. Bennett sang with army bands during the second world war, but he was demoted and assigned to gravedigging for fraternising on Thanksgiving night with a black soldier who had been a schoolfriend. Twenty years after that episode, Bennett was marching in Alabama with Martin Luther King. He was moved to become a pacifist following combat in Europe in 1945, an experience he described as "a front-row seat in hell".
Tony Bennett backstage with Stevie Wonder during the Martin Luther King Jr Gala, Atlanta, in 1982.
Tony Bennett backstage with Stevie Wonder during the Martin Luther King Jr Gala, Atlanta, in 1982. Photograph: Rick Diamond/Getty Images

After demobilisation, Bennett took vocal classes in the bel canto style at the American Theatre Wing school (a teacher there suggested he try imitating the phrasing of jazz instrumentalists) and he began singing in nightclubs from 1946 under the stage name of Joe Bari. The comedian Bob Hope hired him in 1949, but, disliking the stage name, told him: "We'll call you Tony Bennett."
Bennett worked in New York at the Paramount theatre in Hope's popular show, which soon needed police barricades to hold back the singer's teenage fans. When he married Patricia Beech in 1952, crowds of young women showed up outside the ceremony, dressed as if in mourning.
Bennett became one of the biggest vocal draws in the US, with three No 1 hits – Because of You, Cold, Cold Heart (both 1951) and Rags to Riches (1953). His single Stranger in Paradise, from the Broadway musical Kismet, brought him a No 1 in the UK in 1955 but the arrival of rock'n'roll made it Bennett's first and last Top 10 single in the UK, and he had only one more in the US, when In the Middle of an Island reached No 9 in 1957.
Bennett needed to adapt. Unlike Sinatra or Bing Crosby, he had not worked with the swing big-bands, a learning curve alongside expert instrumentalists that could sharpen technique and fill a singer with fresh ideas. But in 1957 he began a long working relationship with the London-born jazz pianist and arranger Ralph Sharon, who edged him toward a jazzier repertoire. Bennett's 1957 album The Beat of My Heart was made with help from the jazz musicians Herbie Mann, Art Blakey and Jo Jones among others; it was followed by Basie Swings, Bennett Sings (1958) and In Person! (1959) with Count Basie's big band.
Bennett began 1962 as a man at the top of his game. Sharon, who was friendly with the songwriters George Cory and Douglass Cross, introduced him to their song I Left My Heart in San Francisco. Bennett recorded it as a B-side to Once Upon a Time; it went gold, won two Grammys and secured a June concert for the singer at Carnegie Hall. He also sang on the first broadcast of The Tonight Show Starring Johnny Carson that October. But that month, the Beatles released their debut single, Love Me Do, and by spring 1964 it was No 1 in the US.