Are the Cowboys really this good? NFL Week 1 The last time the Cowboys opened the year with a dismantling of the Giants was in 1995 (35-0). That team went on to win Super Bowl XXX. The Cowboys have been searching for another Super Bowl ever since. The road ahead will be much more difficult — maybe as soon as next week against Aaron Rodgers and the New York Jets at AT&T Stadium — so don't book flights to Las Vegas yet. But this was as dominant of a performance the Cowboys have had in Mike McCarthy's tenure. The defense shut down the Giants and contributed a touchdown.
The special teams contributed a touchdown. Tony Pollard contributed two goal-line touchdown runs, answering any questions as to how the Cowboys would handle the loss of Ezekiel Elliott.
Stock up after the win: Dan Quinn. The coordinator had his defense ready, which wasn't unexpected, but the unit was completely dominant (six sacks in less than three quarters of action). Since 2021 when Quinn took over, the Cowboys have 10 defensive touchdowns, including DaRon Bland's pick-six Sunday, tied with the New England Patriots for the most in that time. They also have had 22 games — out of 35 total — with multiple takeaways, three more than any other NFL team.
Mike McCarthy's offense doesn't just ride coattails. Dak Prescott and Co. weren't amazing, but such a thrashing didn't require them to be. The flashes they did show should deliver a dose of optimism in McCarthy's first year calling plays since his days in Green Bay. Although Prescott produced an unexciting line with 13 completions for 143 yards and no touchdowns of his own, his brand of mistake-free football led to points on five of seven drives.
Tony Pollard looked far removed from the broken leg he suffered to end last year. The new workhorse exhibited bounce aplenty on his way to two TDs and 82 yards on 16 touches. Plus, the electric KaVontae Turpin exceeded his four measly offensive touches from last year with three carries, two catches and a score. All in all, the starting offense finished with 257 yards, 27 points and its first Week 1 win since 2019.
What could go wrong, did go wrong.
The Giants leaned impressively on the run game to drive down to the Cowboys' 8-yard line on their first possession. Then the wheels fell off. A false start moved them back to the 13, a botched snap put them farther in reverse to the 27 and the Cowboys blocked the ensuing field-goal try for a score. That opening drive set the tone for a disastrous performance.
New York simply had no answer for a swarming Dallas D. Quarterback Daniel Jones went 15 of 28 for 104 yards, two interceptions and a 32.4 passer rating, an outing that still sounds better than it was thanks to garbage time. He was harried and harassed throughout, taking seven sacks and seeing pressure on 62.9% of his dropbacks, per Next Gen Stats. The offense under Jones gained just 2.6 yards per play.
The Giants defense also struggled playing behind the eight ball, allowing five scoring drives, and Graham Gano missed a second, unblocked field-goal attempt. The Giants were steamrolled in every phase. A third-place finisher in the NFC East last year, New York looked nowhere near a team primed to jump a spot, much less two.
Next Gen stat of the game: The Cowboys generated pressure on 23 of 36 dropbacks (63.9%), tied for the second-highest pressure rate in a game since 2019. Dallas had eight defenders generate multiple pressures, including four with at least five pressures.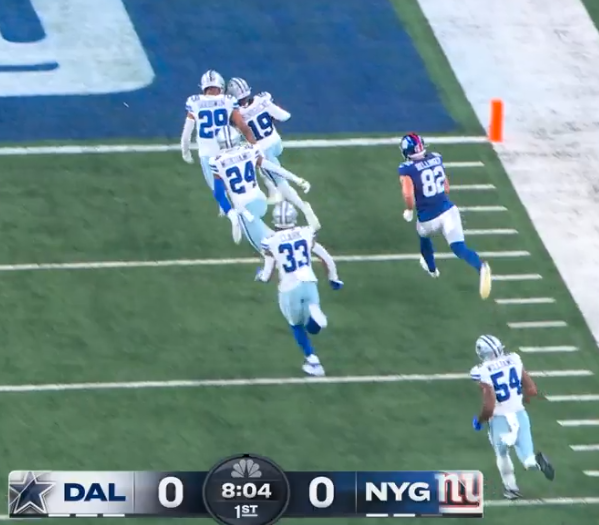 NFL Research: Sunday night's 40-0 result is the largest shutout win in Cowboys history, topping Dallas' 38-0 victory over the Baltimore Colts in 1978. The Cowboys teams with the next three largest shutouts all reached the Super Bowl.
The first full Sunday of NFL action is in the books, which is arguably good news for the Giants, Bengals and Steelers, three teams who should probably do their best to forget that Week 1 ever happened. Those three teams scored our lowest grades of the week and they definitely earned it.
On the other hand, several teams earned an 'A' this week, including the Cowboys. America's Team went on national television and handed the Giants a beatdown with all of America watching. The Cowboys have gone 28 straight years without making it to a Super Bowl, and although it's only Week 1, you will definitely hear their name mentioned as a Super Bowl contender this week.
Baltimore Ravens running back J.K. Dobbins suffered a torn Achilles against the Texans, head coach John Harbaugh said. Dobbins left the game in the third quarter with the injury and was quickly ruled out. Safety Marcus Williams, who was ruled out against Houston with a shoulder injury, is feared to have torn his pectoral muscle, NFL Network Insider Ian Rapoport reported. Williams will have an MRI to confirm the news, Rapoport added. Offensive tackle Ronnie Stanley (knee) did not return. Stanley and center Tyler Linderbaum will also get MRI exams to confirm the severity of their injuries.

Carolina Panthers cornerback Jaycee Horn (hamstring) was ruled out against the Falcons.
Chicago Bears cornerback Kyler Gordon (hand) was ruled out against the Packers.
Cleveland Browns offensive tackle Jack Conklin, who was carted off the field and was later ruled out against the Bengals, is feared to have a significant knee injury, Rapoport reported, per a source. Conklin will have an MRI, Rapoport added.

Denver Broncos safety Caden Sterns did not return against the Raiders after being carted off the field with a knee injury, and tight end Greg Dulcich (leg) also did not return.
Green Bay Packers running back Aaron Jones (hamstring) did not return against the Bears. Linebacker Quay Walker was evaluated for a concussion.
Houston Texans safety Jalen Pitre (chest), who was ruled out against the Ravens, was taken to a local hospital after suffering a bruised lung, per NFL Network Insider Tom Pelissero. Defensive tackle Hassan Ridgeway (calf) was ruled out. Offensive tackle George Fant (shoulder) did not return.

Indianapolis Colts quarterback Anthony Richardson, who missed the last few snaps of Sunday's matchup against the Jaguars after being tackled, is fine, according to head coach Shane Steichen.
Jacksonville Jaguars cornerback Gregory Junior (hamstring) was ruled out against the Colts, and guard Brandon Scherff (ankle) did not return.

Las Vegas Raiders wide receiver Jakobi Meyers is being evaluated for a concussion. He left the game and did not return after sustaining a hard hit in the second half against the Broncos. Safety Tre'Von Moehrig (thumb) left the game and did not return.
Minnesota Vikings center Garrett Bradbury (back) was ruled out against the Buccaneers.
New Orleans Saints defensive end Payton Turner is believed to have suffered turf toe against the Titans, Rapoport reported. The injury will likely require surgery, Rapoport added, per sources.

Philadelphia Eagles linebacker Nakobe Dean (foot) did not return against the Patriots.
Pittsburgh Steelers defensive end DeMarvin Leal (elbow) and tight end Pat Freiermuth (chest) did not return against the 49ers, and defensive tackle Cam Heyward (groin) was ruled out. Wide receiver Diontae Johnson went to the locker room after suffering a hamstring injury and was later ruled out.

Seattle Seahawks offensive tackle Abraham Lucas (knee) and offensive tackle Charles Cross (toe) did not return against the Rams. Wide receiver Tyler Lockett was evaluated for a concussion.
Tampa Bay Buccaneers defensive lineman Calijah Kancey (calf) was ruled out against the Vikings.
INGLEWOOD, Calif. — Tyreek Hill boldly claimed in July that he has his eyes set on a 2,000-yard receiving season. The Dolphins wide receiver is well on pace.
In a 36-34 Dolphins win over the Los Angeles Chargers on Sunday, Hill torched defenders on the way to 11 catches, 215 receiving yards and two touchdowns, including the game-winning score on a fade route with under two minutes remaining in the fourth quarter.