Often hacking at the ball, Ben Stokes did not score a run off the first six deliveries he faced and had only 12 from his first 18. It was the introduction of left-arm spinner Rachin Ravindra that jolted Stokes into life. Three sixes were hoisted over deep mid-wicket, Ravindra went for 28 from his only two overs and Stokes never looked back.
Scoring almost exclusively through the leg side, Stokes brought up his fourth ODI hundred and first since 2017 from 76 balls, his quickest in this format. Though he lost Malan, caught down the leg side on review off Boult, Stokes added 78 in 46 deliveries with captain Jos Buttler.
Stokes walloped off-spinner Phillips over cow corner to bring up his 150 and hit the same bowler into the second tier of the pavilion with a monstrous straight blow.
The left-hander brought up the record with his final maximum, hitting a full toss from the pace of Ben Lister over long-on. The Oval crowd did not appreciate the significance of the moment immediately, but responded with rapturous applause when Stokes' achievement was announced on the big screen.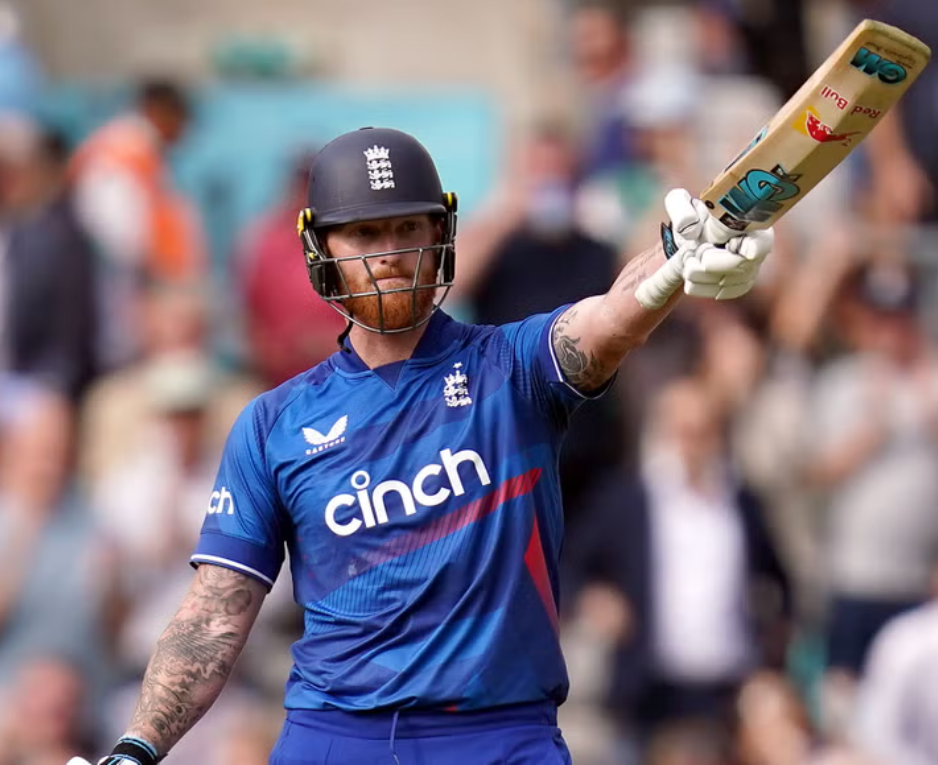 Ben Stokes clobbered the highest score by an England batter in a one-day international in a 181-run trouncing of New Zealand at The Kia Oval.
Stokes' brutal 182 beat the previous England best of 180, made by Jason Roy against Australia in Melbourne in 2018.
In only his third ODI since coming out of retirement to play in this year's World Cup, Stokes hammered some wayward New Zealand bowling for nine sixes and 15 fours in his 124-ball stay.
Arriving at 13-2, Stokes added 199 for the third wicket with Dawid Malan, an England record partnership in an ODI against the Black Caps. Malan's 96 did plenty to cement his place in the starting XI for the World Cup in India.
Despite losing their last six wickets for 32 runs, England piled up 368. Given the carnage caused by Stokes, Trent Boult's figures of 5-51 were extraordinary.
Faced with pulling off the highest successful chase in an ODI in England, New Zealand were soon in disarray at 37-4, thanks chiefly to a three-wicket burst from Chris Woakes, who expertly used the movement on offer in an eight-over opening spell.
Glenn Phillips battled to 72 to prolong the match, but after he was lbw on review to Liam Livingstone, New Zealand were hustled out for 187.
Arriving at the crease with England 13 for two and in trouble, Stokes left it with the score 348 for six and victory all but certain, along the way compiling a 199-run partnership with the excellent Dawid Malan. But if his innings is England's greatest in the format, it was not altogether great: for a while it was downright scruffy, a tale of mistimed heaves, of miscues and edges. Once he started to middle it, however, the bowlers' averages, the spectators' personal safety and a variety of national records were in danger, and there were some fabulous strikes as he motored towards history.
Glenn Phillips's part-time spin had proved surprisingly effective until Stokes dumped him into the stands twice in the 42nd over, one of those shots dropping only just short of the third tier of the pavilion. At the end of the over he changed his bat, and with his first swing of the new one he pummelled a Ben Lister full toss into the crowd for six more. He hit nine sixes in all – between them the rest of the England team and all of New Zealand's managed four – and 15 fours before undercooking an attempt to savage another Lister full toss.
Stokes's incendiary innings was watched by the man whose record he took, Jason Roy applauding from the dressing room – with little evident relish – as his 180 against Australia in Melbourne in 2018 was nudged to No 2 in England's all-time list. Roy had plenty of other reasons to look uncomfortable, having been ruled out of this game following another back spasm, and his iron grip on a place in the World Cup squad is weakening along, it seems, with his body.
Less than a month after reversing his ODI retirement, Ben Stokes set a new England record with a blistering 182 against New Zealand.
Stokes, playing just his third 50-over match since agreeing to return for next month's World Cup defence, was in brutal form as he unloaded nine sixes and 15 fours during a devastating 124-ball innings.
He broke the record in typically emphatic fashion, clobbering Ben Lister high over long-on for a maximum, with previous holder Jason Roy emerging on the balcony to show his appreciation alongside a sold out Kia Oval crowd.
Ahead of the third match, Jos Buttler called for his side to be "even more positive and aggressive", and Stokes and co very much adopted their leader's mantra – their resolve not wavering even in the face of a first-ball duck for Bairstow or the sight of Root being bowled inside Boult's opening two overs.
Stokes then took the lead, taking a particular liking to Rachin Ravindra (0-28), launching him for three sixes – the latter two coming off consecutive deliveries – to see the left-arm spinner taken out of the attack after just two overs.