Sinéad O'Connor.
Police say the death of Sinéad O'Connor is not being treated as suspicious, following the discovery of her body on Wednesday.
The Irish singer and activist, 56, best known for the song Nothing Compares 2 U, was found at her home in Herne Hill, south London at 11:18 BST.
Police say she was "unresponsive" and "pronounced dead at the scene".
London Inner South Coroner's Court said no medical cause of death was given and an autopsy will be conducted.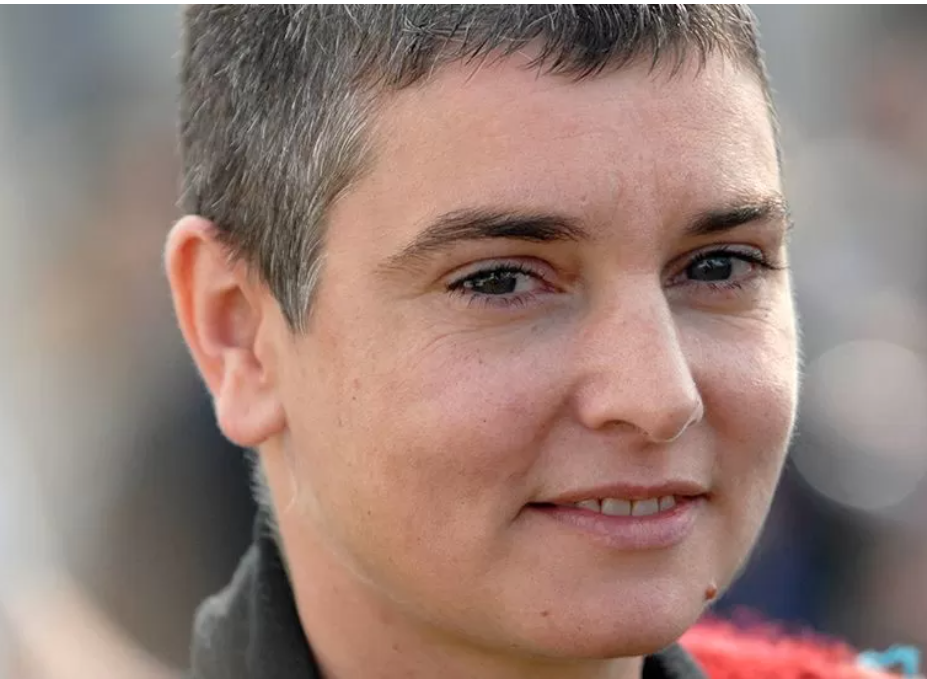 The results could take "several weeks" and a decision on whether an inquest will be needed will be decided when they are are known, the court added,
O'Connor's family announced the news of her death on Wednesday evening "with great sadness", saying "her family and friends are devastated".
She will be remembered for many political statements, including in 1992 when she controversially ripped up a picture of Pope John Paul II during a performance on US TV show Saturday Night Live.
Shredding the picture, which she removed from a frame in her mother's home after her death, was a protest against child sexual abuse in the Catholic Church.
Tributes have been pouring in for the Brit and Grammy Award-winning artist, including from singer Annie Lennox , who shared a poetic tribute to O'Connor, calling her "fierce and fragile… impulsive, bold and beautiful… with an incredible voice".
The Pretenders' singer Chrissie Hynde told BBC Radio 2: "She was a really fun person, she was such a riot to hang out with.
"But she was always angling to stir it up – she really poked the hornets' nest, and [was] certainly a one-off and a huge talent. She is without question in a better place – so fly on, sweet angel."
The Taoiseach (Irish PM) Leo Varadkar also paid tribute to O'Connor, who was born in Dublin.
He said her music "was loved around the world and her talent was unmatched".
Sinn Fein vice-president Michelle O'Neill delivered a tribute at Stormont, the Northern Ireland Assembly, saying:"Ireland has lost one of its greats, such a hugely talented female artist, a real trailblazer.
"She was an Irish woman in the music industry who led the way and her loss will be felt greatly by many."
O'Connor, who shot to international fame in the 1990s, was also remembered by Oscar-winning singer and songwriter Glen Hansard.
He said: "Ireland has always preferred its heroes on the wall. Too scared and afraid to deal with them in the room. Now we can finally hang her picture on the wall and revere her for the giant she was."
A 2022 documentary about O'Connor, called Nothing Compares, was set to be aired on television for the first time by Sky on 29 July.
Speaking to BBC Breakfast, RTE music journalist Dave Fanning, who did the first-ever interview with the singer and met her more than 200 times, described her as a "generous person," but acknowledged she was a "polarising" figure.
"When she tore up the picture of the Pope on Saturday Night Live and people said she'd ruin her career, she did ruin her career, because that was the plan.
"She never wanted to be famous, to be a pop star, she felt she was a protest singer."
Kathryn Ferguson, the Belfast film-maker behind the project, said she was "devastated" by the news of O'Connor's death.
Her every note screamed with naked passion. She turned Prince's saccharine Nothing Compares 2 U into an almighty howl of pain and loss.
Those emotions were her bedfellows. She had a traumatic childhood. Her parents divorced when she was eight, and her mother – who she later claimed had abused her – died in a car accident in 1985.
As a teenager she was arrested for shoplifting and sent to a Magdalene Asylum, which she described as a "prison" where the "girls cried every day".
All those harrowing experiences, and ones yet to come, poured into her music. I Am Stretched On Your Grave is a hauntingly beautiful song about love and loss while Three Babies, from her second album, laid bare her sorrow after she had suffered several miscarriages.
She also took on other people's pain. Her breakthrough single, Mandinka, contained oblique references to female genital mutilation. 1990's Black Boys On Mopeds addressed police brutality against black men, two years before the LA riots thrust the issue into the spotlight.
Although she was a controversial figure, there was always a tenderness to her protests. When she ripped up a picture of the Pope on US television, she was thinking about victims of abuse, not about her image.
Her later albums featured guest spots by her own children, and hymns to peace and community. Earlier this year, she won a classic album award in Ireland, and dedicated it to the country's refugee community.
Nothing Compares 2 U was the outlier: a song that made her famous against her wishes. At heart, she was a protest singer with a voice that demanded to be heard. That is how we should remember her.