VILLENA, SPAIN – It takes a series of decrepit, one-lane roads wending through the quiet, sun-drenched olive and orange orchards of the southern Spanish countryside before you begin to hear a chorus of popping sounds; tennis balls being hit by a group of elite players that include the top player in the world, Carlos Alcaraz.
In the past year, the 20-year-old from the nearby city of Murcia has quickly climbed his way to the top of the game through a combination of explosive forehands at sharp angles, jumping backhand cannon returns, and flawless drop shots that send opponents scurrying to the net, usually in vain.
Nonstop parade of Spanish stars
The rising star of Alcaraz has coincided with the falling one of his larger-than-life contemporary and fellow countryman Rafael Nadal, who, after winning a record 14 titles at the French Open, has opted out of this year's Grand Slam tournament due to a hip injury.
That both players are from Spain is not a coincidence. A combination of factors — climate, infrastructure, and training — over the past five decades has converged to create a Spanish pipeline of players that have come to dominate tennis in the 21st century.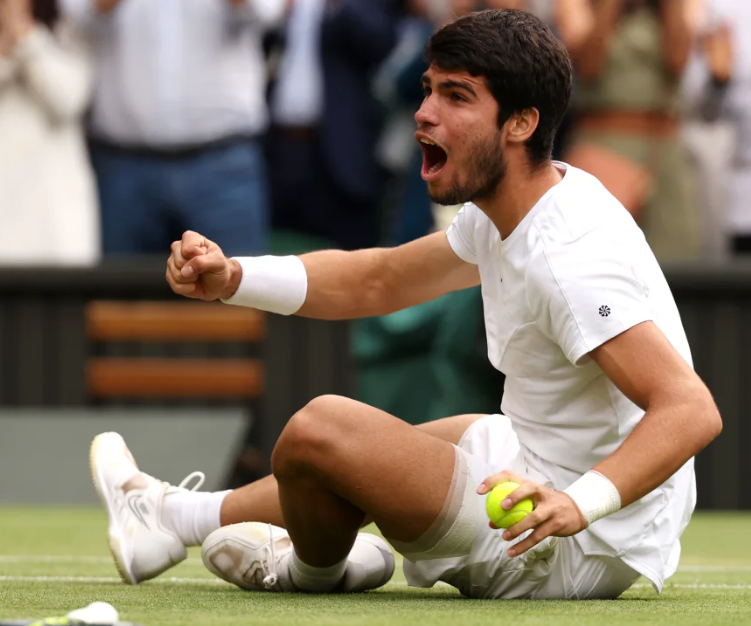 Athleticism and mentality
"It was his mentality," says Cascales. "He had a great passion for the sport. He was always watching tennis videos – he still does – and he hit the ball with such force. He was aggressive, coming up to the net, making distinctive shots, and when you combine his physicality with his passion, it became clear to me he'd make it. He was a fighter."
Being a fighter on the court has become synonymous with Spanish tennis players: Whether it's Alcaraz, Nadal, Carlos Moya, or any number of the dozens of Spaniards who have risen through the ranks in the past few decades, Cascales says players from his home country tend to be harder working because of the surface they grow up playing on.
A tennis court building boom a half-century ago
Spain's tennis court building boom arrived in the early 1970s when dictator Francisco Franco, unpopular in the West, became enamored with Spanish tennis champion Manolo Santana, who brought Spain international fame by winning the U.S. Open, Wimbledon, and the French Open. Franco quickly ordered the construction of thousands of tennis courts for the masses.
Lewit says Alvarez was a ballroom dancer, and he made footwork the central aspect of training. "And he developed this method of drills, mainly drills from baskets. Sometimes in Spain, they call them 'Cubos,' or buckets of balls," says Lewit. "And they're these series of geometric movement drills and movements that can be linked together."
It's a system that coach Lluis Bruguera, now 79, still uses to teach players here at an academy in Barcelona. "I'm often asked why are there so many top tennis players from Spain?" says Bruguera. "Well, it's because our system is good and the Spanish character is also good. It's no coincidence that practically every country in the world uses these exercises now to train their players."