UAE President ties friendship band to Modi: Prime Minister Narendra Modi reached UAE for a day on Saturday after a two-day visit to France. Here he was given a ceremonial welcome. He was received by President Mohamed bin Zayed Al Nahyan at the UAE's presidential palace 'Qasr Al Watan'. During this, the President also tied a friendship band on PM Modi's wrist.
A bilateral meeting was also held between the two countries. After this, in a joint statement, PM Modi said – the relations between the two countries have improved a lot. Every Indian now sees UAE as a true friend. There has also been an agreement between India and UAE on trade in each other's currency during PM Modi's visit. Along with this, the campus of IIT Delhi will also be opened in Abu Dhabi.
Earlier, he was received by UAE's Crown Prince Sheikh Khalid at Abu Dhabi airport. To welcome PM Modi, Welcome Honorable Prime Minister Narendra Modi was written on Burj Khalifa with tricolor and his picture.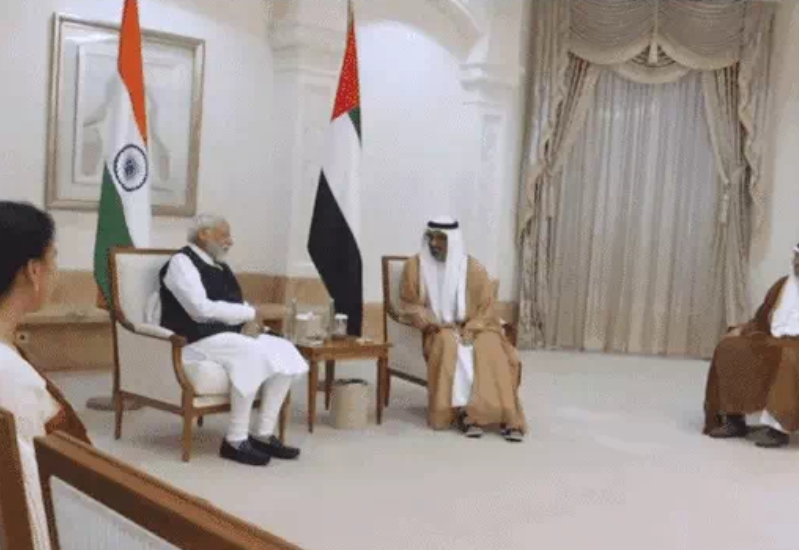 Big things of PM Modi's statement…
Our bilateral trade has increased by 20%. The trade between the two countries has reached 85 billion dollars i.e. about 6 lakh crore rupees. It will soon reach 100 billion dollars i.e. 8 lakh crore rupees.
I am very glad to meet you. The honor you have given me shows the brotherhood between us.
We are taking new initiatives to strengthen our partnership. The agreement signed today on the use of each other's currency in trade reflects the strong economic cooperation and trust between the two countries.
The Comprehensive Economic Partnership Agreement was signed between the two countries last year, which would not have been possible without President Nahyan's cooperation.
PM Modi thanked the invitation received for the COP-28 Summit on Climate Change to be held in UAE in November-December this year. UAE also organized lunch for PM Modi. Only vegetarian food was kept in it.
PM Modi's 5th visit to UAE
This is Modi's 5th visit to UAE after becoming PM. In 2019, PM Modi was honored by the UAE with its highest honor 'Order of Zayed'. Strategic partnership between the two countries was discussed and several MoUs have been signed. PM Modi had a meeting with Sultan Al-Jaber, CEO of the National Oil Company of UAE. UAE is India's fourth largest oil supplier after Russia, Saudi Arabia and Iraq.