Tony Bennett.
Tony Bennett, the internationally famous singer whose voice epitomized the American Songbook, has died. He was 96.
Bennett died Friday morning in New York City, according to a representative for the singer. He was diagnosed with Alzheimer's disease in 2016, but his condition didn't stop him from occasionally performing live or releasing new music. He reached the Billboard Top 10 at age 95 in 2021 thanks to his second duet album with Lady Gaga, Love For Sale, and celebrated his retirement the same year with two touching nights at Radio City Music Hall.Tony Bennett
Bennett hit the scene as a suave crooner in the 1950s and quickly established himself as one of radio's most popular hit-makers. He was a showman, with an intimate nightclub sensibility. He wore that persona everywhere. It was like his tailored suits: age appropriate, yet timelessly cool.
He cut his first sides when he was 20 years old, including the song "St. James Infirmary Blues," which was made right after World War II with a U.S. Army band in Germany.
The world knew him as Tony Bennett; Bob Hope gave him that name. But he was born Anthony Dominick Benedetto in the Astoria neighborhood of Queens, N.Y. His father died when he was 10. Eventually, he quit high school, working odd jobs to help support his family.Tony Bennett
"I became a singing waiter in Astoria, Long Island," Bennett told WHYY's Fresh Air in 1998, "and it was the only job that I said, 'If I have to do this the rest of my life, I'd be happy doing that.' "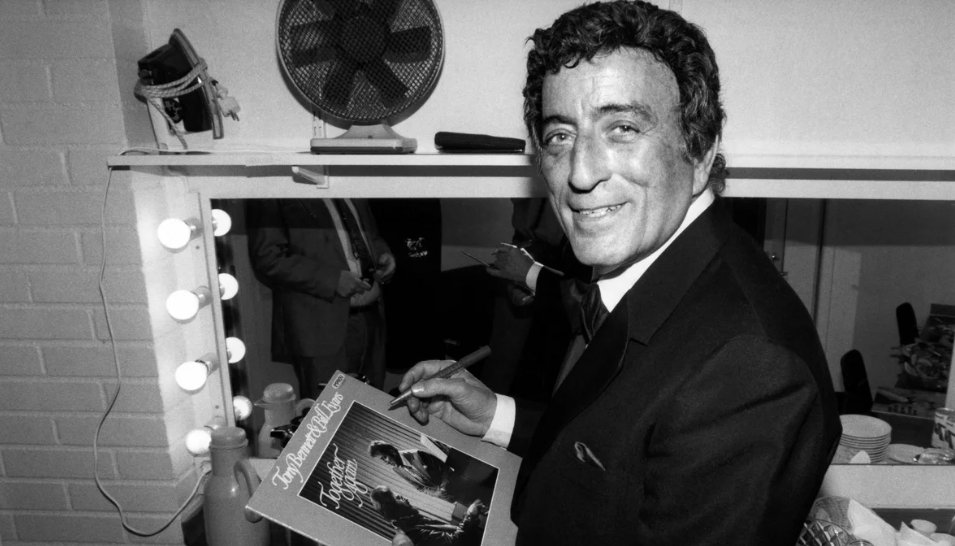 In that interview, Bennett also noted that music was a family affair that started back in Italy, with his father, who charmed his community with opera. "In Calabria," the singer said, "he had a reputation for singing on top of the mountain. The whole valley would hear it, and they enjoyed him so much."
Bennett himself studied opera, specifically the technique of bel canto singing, on the G.I. bill. He says a teacher told him to emulate the phrasing of instrumentalists to find his own voice.
His demo of "The Boulevard Of Broken Dreams" made it to producer Mitch Miller at Columbia Records, and Bennett was signed in 1950. In short order, he sold millions of records, and a 10-year string of hits followed.
Bennett made a name for himself as a crooner, but he loved jazz. He wasn't sure he could pull it off.
"He always says, 'I'm not a jazz singer,' but he has a great feel for a beat," Bennett's accompanist and arranger for more than 50 years, Ralph Sharon, told NPR in 1998. Sharon added that the likes of Duke Ellington and Miles Davis appreciated the jazz sensibility that Bennett brought to pop music. "I think that's why musicians love to play with Tony, and also like to listen to him," Sharon noted.
And because he liked listening to them, Bennett wanted to sing with them. He leveraged his pop stardom to record jazz albums with Art Blakey and the Count Basie Orchestra.
No matter what style Bennett tried on, Sharon says one thing was clear: "I think it definitely is and was an identifiable sound. I think you always knew it was him."
Then, in 1962, Bennett's career really took off with the song "I Left My Heart In San Francisco."
Sharon says the song that became Bennett's signature was an accident. Sharon found the sheet music stashed in a drawer, along with some shirts. He packed it before hitting the road.
"I love life," he said. "I wish I could communicate to the whole planet what a gift it is to be alive."
Being alive, for Tony Bennett, meant following his passions, which included not only music, but painting landscapes and portraits — signed "Antonio Benedetto."